I know, I know... it's been too long since I last posted photos. ESPECIALLY too long since I've posted Reggie photos. So here he is! I took him outside in the last light of the day, so they are a bit darker than I would like, but the colors are still pretty accurate. Overall, I think I did already for a first-time photoshoot outdoors with a cornsnake!
Oh, forgot to mention, he's a 2008 Classic (ak:a "Normal" cornsnake). As of his last weigh-in a couple weeks ago, he is not 136 grams. He's turning into a big boy!
"Hai. I iz Reggie."
These are pretty similar, but I thought they all turned out nice in their own ways.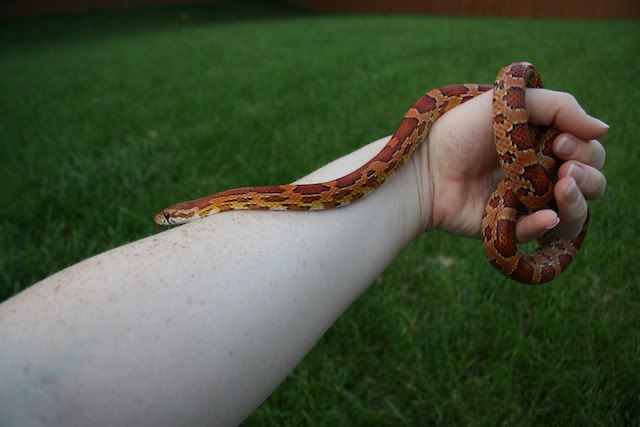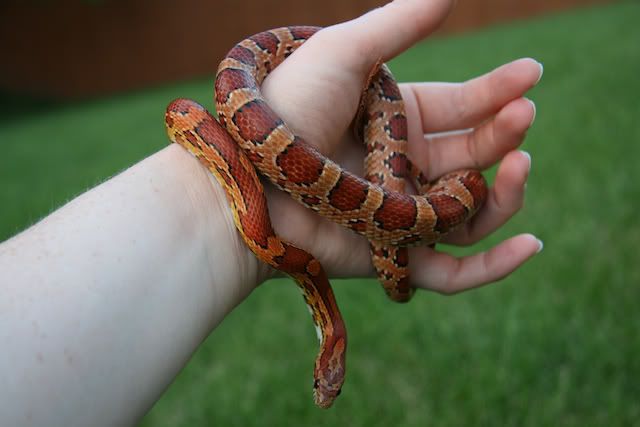 Belly shots! He has very clear black & white checkers closer to his head... then they bronze and split down the center as you go towards his tail.
Moooooooooooooootion! (Sorry, I liked it. LOL!)
More belly. (Again, sorry it's a little blurry.)
You know you're lazy when you use yourself as a hammock.
THE END!
Thanks for looking!