My mission for Chazhound's Free Dog Page is to have a place on the internet where humans who live with dogs and pets can go. A special place, which provides interactive learning tools in a fun atmosphere.
"Learn about your dog or pet and have fun too!"


Chaz at 4 years old
Chaz was my bestest buddy for 10 years until he suddenly died June 1997. As it turned out the illness could have been treated but we failed to notice the clues in time. I started this site on December 30, 1997. It was a one page site on Tripod.com. I then moved it to AOL for a short while and moved to our own domain in April 1998.
This site is dedicated to Chaz and reflects his "happy go lucky" and "fun loving" personality.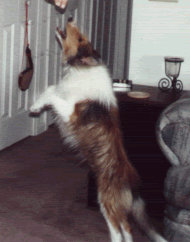 Meet my new dog Jake!
Photo and Image Usage Statement for Chazhound's Free Dog Page and
The Chazhound Entertainment Network
http://www.Chazhound.com
Use of photos, images, or content for personal use is permitted and encouraged.
Please do not link to pictures from this site on public forums, instead link to the html web page where the picture is located. Reproduction or republishing in whole or part for inclusion in any work is strictly prohibited without prior written permission from Chazhound.com.
We gladly allow webmasters to use the photos and contribute to this gallery. For any photos or material used from this site please credit this site.



Site Credits:



Chazhound's Bannners and buttons and the "Big Dog" Award along with other selected images were created by Susan Barney. Susan is a true dog lover with many talents:
FLY-BY-NET Virtual Cgi

Chazhound's doberman clipart by: Dale Taylor
Dale also provides our cartoon of the day.
See his top award winning site at:
Not In My Backyard

Main background image created by: Tom Speers
Check out his educational design site at:
Fortress Web Design




Legal disclaimer for Chazhound's Free Dog Site and the Chazhound Entertainment Network.



All dog pictures and messages submitted to Chazhound by e-mail or by regular postal mail, becomes property of Chazhound to use for website display and marketing purposes, but will always be used to present dogs in a positive manner. All pictures submitted must be owned by the provider. Slight editing of some pictures and messages may be necessary for web publication.

The information, games, software, and advise provided are as is and without warranty of any kind, either express or implied, including but not limited to the implied warranties of merchantability and fitness for a particular purpose. In no event shall Chazhound.com or the Chazhound Entertainment Network be liable for any damages, including direct, indirect, incidental, special or consequential, loss of buiness profits or special damages, even if Chazhound.com or the Chazhound Entertainment Network has been advised of the possibility of such damages.

Some jurisdictions do not allow the limitation or exclusion of liability for incidental consequential damages so some of the above limitations may not apply to you.

Links on this site will take you outside our web server. Although these links were established to provide you access to useful information and game downloads, we do not control and are not responsible for any of these sites or their content and are not responsible for any damage that might occur on your computer.

Contact



If you have any questions about this the practices of this site, or your dealings with this Web site, you can contact us:


1. Fax the following fax number:
904-241-6741
2. Online at: Chazhound Message Center




Conclusion




Chazhound makes protecting your privacy a top priority. We want you to feel safe and in total control with your experiences with us. Our goal is to entertain and educate you on everyday life issues. Thank you for your continued support.
Privacy Statement


© 1997-2006 Chazhound All Rights Reserved